Reliable

Managed IT Services

in Tampa, Florida
Choose FIT Management when you're spending way too much time dealing with IT issues…
When you need to leverage your IT systems to increase employee productivity & efficiency…
Or when you need IT solutions tailored to your needs, budget & goals…

Secure, Reliable IT Support & Managed IT Services
For Businesses With 10-250 Computers
Don't have an in-house IT department or a reliable IT guy? Don't worry! When you partner with FIT Management, you're partnering with a dynamic team of technical support experts who will help you get a real return on your IT investment. For a flat-rate fee, our innovative solutions and solid 24/7 IT services will lower costs while sending your productivity soaring.
With FIT Management as your strategic technology partner, you can:
Enjoy Greater Productivity – more uptime means more effective work time
Focus on your Business Goals – we take technology concerns off the table, ensuring optimal performance
Rely on Guaranteed Asset Protection – your business data and network are safe and secure
Gain Peace of Mind – 24/7/365 live on-call IT services when you need it most
FIT Management has the expertise you need to stop worrying about your IT Services. Like other similar business owners in your area, count on us, the reliable IT service experts, to keep your network safe.
Average IT Guy
Limited knowledge
Unavailable when sick or on vacation
Lacks documentation skills
Poor time management
Lacks IT management tools
You often get his voicemail
Takes forever to get anything done

Predictable Costs
Team-based knowledge
Available 24x7x365
Proactive Support
Complete IT management tools
Strategic IT business consulting
No technical geek speak
Talk to a real person every time you call
60 minute response time guarantee
Average IT Company
Makes $$$ when you have issues
Misalignment of goals
Charges you for onsite support
Unpredictable monthly fees
9x5 support
Don't guarantee their work
Often don't stay within budget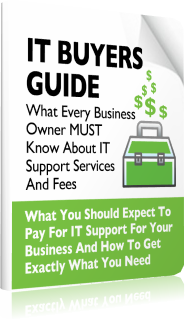 What are other Tampa, Florida businesses paying for IT Support Services?

Your 3 options for technical support, the pros/cons of each and how much other local businesses are paying for them

Cheatsheet - 21 questions to ask while you are evaluating who to hire for your outsourced IT support so you get the BEST deal

How to avoid getting burned by a common billing model that puts all the risk on you, instead of the IT provider

Exclusions, hidden fees and other "gotcha" clauses IT companies put in their contracts that you DON'T want to agree to.